October 23 sees the eagerly anticipated launch of Popcorn Kitchen's most ambitious NEW range launch yet; namely the creation of a giant 750g Salted Caramel chocolate bar and 3 x deliriously decadent 100g offerings including a: White Chocolate and Raspberry, Chocolate Orange and a truly immersive Salted Caramel.
Popcorn Kitchen is a bustling, small-batch popcorn provider that has enjoyed meteoric growth over the last 12-18 months largely on account of its single-minded mission to showcase popcorn's more avant-garde aspirations, initially with its pioneering 'home-poppin' kits and NOW with its 4-strong confectionery collection.
According to Popcorn Kitchen owner, Louise Webb, 'The unprecedented success of our home poppin kits highlighted the alluring appeal of Belgian chocolate and best-in-class popcorn working side-by-side as luxurious bedfellows.  The indulgent make-up of our popcorn (best ingredients, involving flavour marriages….) means that its well-suited to make a seamless transition to top drawer confectionery hero.'
In the past popcorn themed chocolate bar unions have been thwarted by a penny-pinching commitment to low-grade chocolate, cloying sweetness and worst of all soggy popcorn with zero crunch.  Popcorn Kitchen effortlessly bats all these historical hinderances with 3 sublime sweet treats  sensations that will make any aspiring gifting or confectionery fixture burst with pride.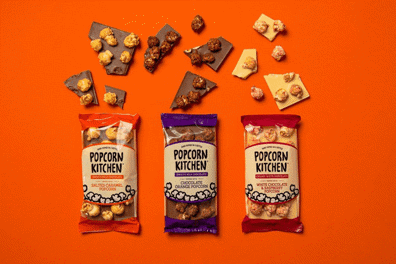 3 x 100g bars £4.99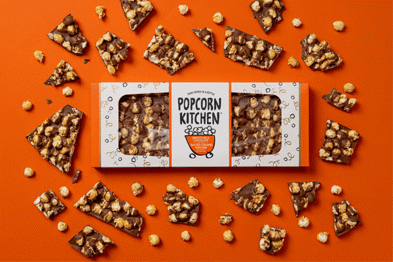 Giant 750g bar £24.99
Popcornkitchen.co.uk