Image: Lucarelli cocktails made with The King of Soho gin and vodka, pictured in Knightsbridge
(Image credit: Sandra Vijandi)
Lucarelli serves all three expressions in the London-based spirits brand's range: The King of Soho London Dry Gin; The King of Soho Variorum Pink Gin; and The King of Soho Copacetic Vodka.
The restaurants specialise in fine, traditional Italian food and elegant cocktails. The King of Soho spirits features in specially created drinks at the venues including the cocktails served as part of the 'bottomless brunch' menu at the Birmingham and West Bromwich restaurants whose menu is being updated to the Autumn/Winter offer in mid-November.
The most popular drink on the Signature cocktail menu currently is The Lucarelli Fizz made using The King of Soho London Dry Gin, Prosecco and Limoncello.
The family-owned Group recently attracted celebrity chef, Aldo Zilli, to join the Lucarelli team. There is a natural fit with The King of Soho as Aldo began his first restaurant in Soho, where the brand is based.
Aldo Zilli, Brand Ambassador for Lucarelli, said: "Using The King of Soho Gins and The King of Soho Copacetic Vodka at Lucarelli Knightsbridge is a collaboration of my two passions: great Italian cooking and the spirit of Soho. Soho is where my journey as a restaurateur began, and it's where I've shared some of the most exciting moments of my life. To me, Soho isn't just a place; it's a heart-warming collection of memories and dishes. Using The King of Soho spirits, based in the heart of this vibrant village, is not just a choice; it's a heartfelt tribute. Soho will forever hold a special place in my heart, as I once owned four restaurants here."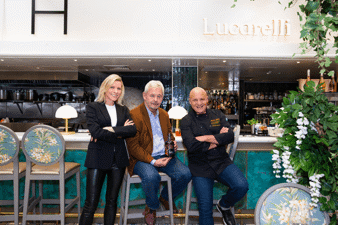 Image: Alex Robson, Howard Raymond and Aldo Zilli, Brand Ambassador for Lucarelli, pictured at Lucarelli, 5th Floor, Harvey Nichols, Knightsbridge, London to celebrate the launch of the collaboration in September 2023.
(Image credit: Sandra Vijandi)
The King of Soho is run by female entrepreneur, Alex Robson, who co-founded the brand with her partner, Howard Raymond. The brand was launched in homage to Howard Raymond's late father, the original 'King of Soho', Paul Raymond. who revolutionised the district of Soho from the '50s to the '80s. The spirits celebrate Soho: the bold and colourful design of the bottles reflects the independent characteristics that make Soho unique, reflecting the arts, flamboyance, and hedonism of this vibrant and dazzling district.
Alex Robson says: "We are thrilled that, just over two months since Lucarelli listed our brand, the cocktails are so popular that we've been picked as the 'go to' spirits brand for all their gin or vodka-based cocktails."
The signature serves have been developed by Bar Manager, Osvaldo, and include the Amalfi to Soho gin-based cocktail and the Italo Soho, made with The King of Soho Copacetic Vodka.
For trade sales inquiries: sales@kingofsoho.com